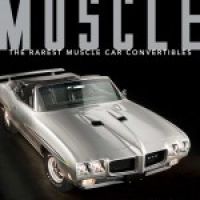 Wide-Open Muscle : The Rarest Muscle Car Convertibles ...
Published on 01.05.2019

Voir cet article en français
Randy Leffingwell does a good job of succinctly telling the story of these rarest of the rare. For example, only twelve 1971 very politically incorrect Hemi 'Cudas were made. Two went to Canada. Three went overseas. Seven stayed in the U.S. Only two of the twelve had Hurst shifter equipped 4-speeds. Keep in mind that these Hemi-equipped cars had challenging driveability at anything less than full throttle. Not to mention 490 pound-feet of torque. Or no weight in the back. The rear tires were there only to hold the back half of the car off the ground.

Only eight 1969 Pontiac Trans Am 400 Ram Air III convertibles were ordered, four with 4-speeds.

The 1965 Shelby 427 Cobra "Semi-Competition" roadster is worth a mention here. Two Holley 4-barrels fed fuel to a 425 horsepower monster that in the hands of Ken Miles was clocked going zero to 100 and back to zero in 13.8 seconds. Cobras were expensive. Shelby had only sold 16 competition cars (he needed to sell 100 to make them race legal in production SCCA and FIA production classes). What to do with 85 unsold Cobras? They dropped the price from $10,000 to $8,500, dropped the compression ratio enough to tolerate Sunoco 260, added some baffles to reduce the loud from ear-spitting to deafening, added electric cooling fans, and modified the bodies a bit for more tire clearance. Many of the S/Cs sold were used as race cars anyway.

The book is well written and worth a place on your shelf.
Wide-Open Muscle : The Rarest Muscle Car Convertibles, by Randy Leffingwell.
Copyright @ 2016 Randy Leffingwell
Buy the book : Wide-Open Muscle
Alan Baire Eveillard
---