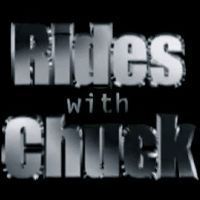 Voodoo Larry 2013 Open House by Chuck Derer ...
Published on 08.05.2013

Voir cet article en français
"VooDoo" Larry Grobe started building cars in his driveway when he was 18 years old.

He was a staple at local cruise nights and car shows. Everyone always looked forward to spring to see what he had done to his cars after the long winter. Fast forward 25 years and VooDoo Larry can be found at his shop, VooDoo Larry Kustoms , located in Elk Grove Village, Illinois.

The shop is 4,500 square feet of kustom and hot rod heaven. At any given time, there are complete frame up builds along side the daily drivers waiting for a mild kustom treatment. The shop is not state of the art, but VooDoo Larry puts his heart and soul into every build and modification.

Voodoo Larry Open House was a smashing success. It is one of the great Chicago area art events, about the car culture.
VooDoo Idol We go for a ride with VooDoo Larry ...
For this project, Larry Grobe using a 1946 Ford Deluxe, it largely to changes. A car built in homage to Gene Winfield.

Here are the main changes : Chopped 5.5" in front, 7.5" in the back, channeled 2", sectioned 3", lengthened 12". Slanted b pillars, custom built hood, custom rear fenders, 47 Studebaker grill, 49 Plymouth tail lights, 49 Cadillac front and rear bumpers, 1952 Oldsmobile gauge cluster, 1946 Lincoln V12 steering wheel, 81 Camaro subframe, 350 Chevy engine with 3 2 barrel carbs, tri link rear suspension and Air Ride.

Voodoo Larry 2012 Open House ...
Credit Vidéo : Copyright @ 2013 Chuck Derer.
Credit Photos : Copyright @ 2013 Chuck Derer.
Chuck Derer
---