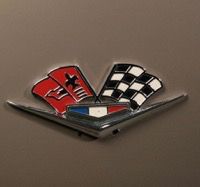 Vintage Corvette has been daily driver for 50 years ...
Published on 05.05.2017

Voir cet article en français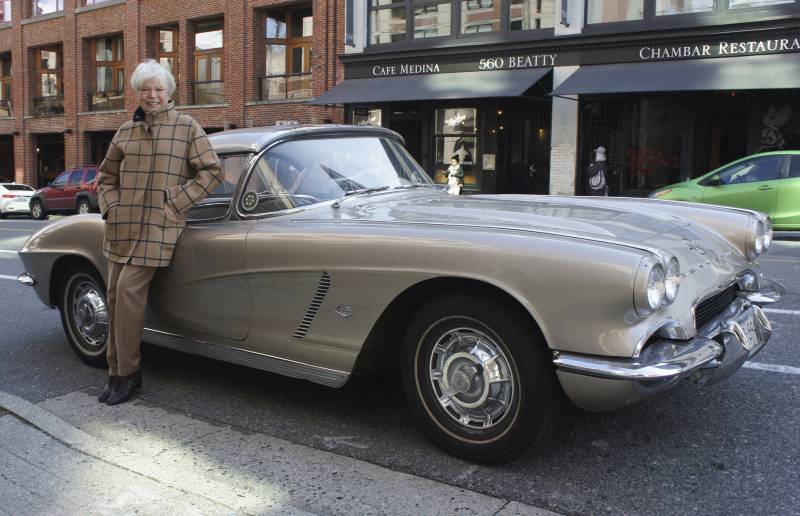 Ann-Shirley Goodell ordered her new Corvette roadster on Jan. 15, 1962 at King Chevrolet in Cincinnati, Ohio. The car cost $3,747.85 with taxes and licence. This was slightly more than her annual salary as a nurse.

A native of the B.C. Interior city of Trail, the University of British Columbia nursing graduate had moved to Ohio for her graduate degree and a research job. Her father, who worked at the Trail metals smelter for 40 years, suggested she get a new Oldsmobile, drive it for two years, bring it into Canada without import duties and then he would purchase it.
But the Oldsmobile proved to be a lemon with constant brake problems. Since Goodell loved Corvettes, she went back to her original plan to buy one and "keep it forever." Her short ownership of the Oldsmobile cost her $800. The fawn beige Corvette arrived in time for spring top-down motoring and she is still cruising in her Corvette more than half a century later having racked up at least 300,000 kilometres in the process. "I drive it every day. This has been my baby all these years," says the former nurse and hospital administrator.

Now, as a gender specialist and consultant in corporate social responsibility, she uses her skills volunteering in developing countries. "Unfortunately, my car has to stay home."

She keeps her beloved Corvette in a downtown parking garage across from the contemporary two-level condominium she shares with Rob Goodell — her husband of 50 years.

"He married me for my car, but all he got was the bills," she says with a grin.

Before she was married, Ann-Shirley filled all available space in the Corvette with her wedding clothes to make the 3,900-kilometre trip home to Trail. The Corvette was her wedding car. It was also driven on their honeymoon in the Okanagan Valley.

The couple brought the Corvette with them when Rob's work took them to San Diego and then to San Francisco.

"I carpooled taking the kids to school and sometimes had four kids strapped into the passenger seat with a collie on the floor," she recalls. "One could hardly do that today."

Her two sons loved the car when they were growing up and each drove it for the first time to their high school graduation ceremonies having first polished it until it shone.

Her two sons loved the car when they were growing up and each drove it for the first time to their high school graduation ceremonies having first polished it until it shone. Now, her two 10-year-old grandsons are smitten with the Corvette and love to go for rides in it with their dads.

She originally purchased the car with only a convertible top, but she soon found out she needed a removable hardtop for winter driving. Her favourite driving is done with the top down. She carries a matching beige umbrella beside her and, if it starts to sprinkle, she puts the umbrella up while stopped in traffic.

"It only rains in the car when it's not moving," she notes.

The Corvette has all its original parts including a rare floor-shifted three-speed manual transmission. Recently it has spent a good deal of time in California where the Goodell like to spend the winters.

"But now it is home where it belongs," she says.

She can't count how many offers she has had from people wanting to buy her car over the past five decades.

"Everyone wants to talk about my car. People are amazed to know that I am the original owner," she says. "Every time I took it out in California, especially with the top down, people would try to buy it."

There have been several mishaps over the years including a collision with a car driven by a motorist who went through a stop sign in Kitsilano damaging the front end. A friend's car rolled down a driveway into the back end after being left without the parking brake set and there was another fender bender in California with a motorist making an illegal U-turn.

As a result, she is very protective of her car.

"I look for parking spots away from other cars and I don't like to take it out at night and leave it parked," she says.

If you see her driving her 1962 Corvette around downtown Vancouver, don't bother trying to buy it.

"It's not for sale," she says. "It's my car for life and it will always stay with me."

Like she said, a Corvette forever.

Article : By Alyn Edwards published in Driving Classic Cars,

Credit : Photos : By Jenelle Schneider.

Denis Eveillard
---