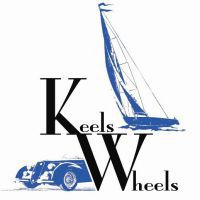 2014 The Keels & Wheels Concours d'Elegance ...
Published on 05.05.2014

Voir cet article en français
The 19th Keels and Wheels Concours d'Elegance took place this weekend at Lakewood Yacht Club. Once again, it was a great opportunity to see a wide range of beautiful cars and boats. There was an abundance of old sports cars, classic pre-war and modern luxury vehicles.

Among the wide range of classic cars, Packard and owner attracted all eyes. Miss Margaret Dunning to made ​​the trip from Plymouth Michigan with his beloved a Packard 740 Roadster 1930.

Lovely assortment of wooden boats included Chris-Craft and Riva, and some really interesting ships, including a steam Steam Tender 1894. The Keels and Wheels is a great event in a beautiful setting, a large assortment of cars and boats, and many owners willing to share the story of their vehicle.

Best of Show and Special Award 2014

Special Recognition for Margaret Dunning "Belle du Concours"
Credit Photos : Copyright @ 2014 Keels and Wheels.

Credit Photos : Margaret Dunning Copyright @ 2014 Ana Goni-Lessan. Special to The Daily News.

Denis Eveillard
---