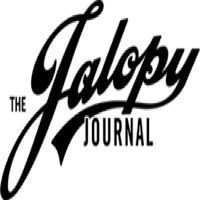 The Jalopy Journal the book ...
Published on 07.05.2012

Voir cet article en français

The Jalopy Journal (in print) isn't a magazine. It's a book. And it's a book unlike anything you've ever read before. Flipping through it is akin to walking through a museum. It has white walls, white floors, gorgeous abstract art, and a furiously inebriated curator. And that's really the best way I can describe it.

To get a real feel for this thing, you need to hold it in your hands and flip through the pages yourself. It's a tactile experience created by over 190 pages wrapped in a bonded leather cover that harkens back to the days when publications were built to last.

And then there are the little details like the sewn binding and the bookmark ribbon. All of it put together by a few guys that were truly passionate about creating a book. A real, honest-to-goodness, book.

Of course, there's also the content... All of it pretty much exclusive to one idea - Spreading the gospel of traditional hot rods and customs to hoodlums world wide.
The Jalopy Journal Copyright @ 1995-2012 The Jalopy Journal.
Buy the book : The Jalopy Journal.
Alan Baire Eveillard
---