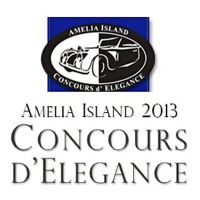 2013 The Amelia Island Concours d'Elegance ...
Published on 04.05.2013

Voir cet article en français
Stars & Cars, Classic Hollywood Glamour ...

It's hard to imagine that 80 years from now, anyone will be interested in paying a hefty admission fee to trudge along a blazing golf green just to view Paris Hilton's fleshy-pink Bentley Continental, or the one Mercedes SL that Lindsay Lohan failed to wrap around a streetlamp or pedestrian.

Last month in Amelia Island Concours d'Elegance, V.F. braved both heat and crowds-not to mention a brutal lurch into Daylight Savings Time-to get up close to a quintet of vehicles that once belonged to some of the most celebrated stars of Hollywood's actual golden era.

Fred Astaire and Ginger Rogers pose with Ms. Rogers's 1929 Duesenberg Model J in the Warner Bros. dance epic The Gay Divorcee.
In 1913, brothers Fred and Augie Duesenberg based in Des Moines, Iowa the Duesenberg Automobile & Motors Company. Self-taught, they began developing racing cars which illustrate the particular Indianapolis 500 and the Grand Prix of France 1921. Duesenberg but is also known for having produced luxury cars, fast and powerful. The family business was acquired by the group in 1926 Cord to disappear in 1937.

Judges Concours d'Elegance on Amelia Island Best of Show devoted an iconic model of the brand. Duesenberg SJN a Rollston Convertible Coupe 1936.

The rare supercharged Duesenberg were among the most powerful cars of their day, with an eight-cylinder 420-cubic-inch engine capable of boosting them to a top speed of nearly 140 mph. They had smaller l7-inch wheels, skirted fenders and lowered bodies set directly on the frame rails. A favorite with the rich and famous, these cars were actually very drivable despite their mass and speed !


Owned by The Nethercutt Collection - Helen & Jack Nethercutt of Sylmar, CA
Joe Bortz, a well known name in the U.S. automotive hobby. The specialty of Mr. Bortz, rescue "concept cars". The "concept cars" are these cars exhibition that automobile manufacturers build to open "buyer appetite" of the public. Personally, I think the most important concept cars from the Bortz Collection are General Motors LaSalle II Roadster and LaSalle II 4-door Sedan 1955.

The story of Joe Bortz : My Time With Joe Bortz by Chuck Derer ...
A spectacular show and a beautiful video produced by Justin Lapriore, ''Born Of A Blue Sky'', captures the special sounds and sights of the occasion. Take a few minutes to watch this special presentation. Although it shows racing automobiles and sports cars much newer than you are used to seeing here, we are sure you will enjoy it.

This year the concours is great emphasis on the legendary GT 40 models with Le Mans Prototypes and more. The event celebrates the 50th anniversary of Lamborghini with several including a Miura spider. The company Porsche is also represented with many 935, 911 RSR racing and Speedster Prototype 1985.
Credit Vidéo : Harley Earl's GM Motorama 1955 LaSalle Copyright @ 2013 Joe Bortz.

Credit Vidéo : Born OF a Blue Sky Copyright @ 2013 Justin Lapriore.

Credit Photos : Copyright @ 2013 Richard Owen.

Denis Eveillard
---