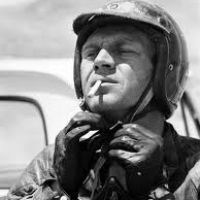 Steve McQueen and motorcycles ...
Published on 01.10.2012

Voir cet article en français
Steve McQueen bring to the screen movies on racing like Le Mans in 1970 but also motorcycle racing with too unknown On Any Sunday "All Sundays." This film, improperly renamed France Challenge One, features Steve McQueen and some great American pilots of the time as Mert Lawill "winner of the Grand National on a Harley-Davidson KR 750" or Malcolm Smith "Legend of terrain." The actor will participate in the ISDE "INTERNATIONAL SIX DAYS ENDURO" world championship enduro 1964 with his friend Bud Elkins.

In the grueling excitement of these races, this documentary depicts passion with the great American pilots of the time as Malcolm Smith legend terrain.

David Evans, Mert Lawwill winner of grand national on a Harley-Davidson KR 750, the greatest stuntman in Hollywood.

Not to mention the exclusive participation of Steve McQueen, himself a big fan of this extreme sport ... and producer of the film, which became the reference movie for all lovers of the motorcycle.
When the name of Steve McQueen is pronounced, the first thing that comes to mind is its chase in the German countryside on a motorcycle, in the movie "The Great Escape in 1963." This bike was a hybrid of English Triumph motorcycle mounted on a chassis Rickman. He called it "My Métis." The Triumph has not been modified except for jumping a wave cosmetic treatment, giving it an air of BMW. Thus, the suspensions were not hardened, despite the 180 kg of Triumph.
Motorcycle racing fanatic, Steve suggests itself the final scene, the famous motorcycle jump over the barbed wire border. Steve brought with him his friend Bud Ekins, experienced rider, who was hired as a stuntman. Bud Edkins considers jumping 3.70 high and 20 meters long. The jump was successful from the first dose. Ekins pocketed $ 1,000 for his performance. This tidy sum was he abandoned fields and Motocross tracks of Baja California for not attending the film sets. Steve pilot himself in virtually every scene except the famous jump at the end. It makes the bike wherever he goes in the world.

In addition to his life as an actor, Steve McQueen was an avid motorsports and also a great collector bike. He possessed in his life 210 excluding 55 cars and five airplanes! It was a lot of competition motocross with a preference for racing in the desert. Even during his acting career continued Steve competitions and ran under the name of Hardy Muschmann to avoid panic its insurers.
Credits photos : LIFE Magazine & John Domis.
Denis Eveillard
---