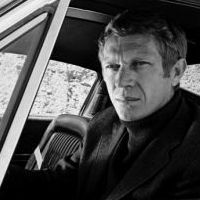 Steve MC Queen, Bullitt Car Chase ...
Published on 11.10.2011

Voir cet article en français
In 1968, he starred in the film Bullitt Peter Yates. This film, cult, shows one of the car chases the most spectacular in the history of cinema, by far the best at the time. Lt. Bullitt Steve McQueen is loaded by Walter Chalmers Robert Vaughn protect a gangster who must testify before a Senate committee investigating the "Better Tomorrow". But the witness was shot down ...

The 60s marked the revival of film noir with the success of films such as The Point of No Return by John Boorman and especially the Detective Gordon Douglas in 1968. With Bullitt, the cop is the new American hero. For several decades, the private detective who makes the heart beat of the audience but the character of police integrity will dethrone his rival.

The black film changes course radically and backdrop of political corruption and judicial authorities. But Bullitt is a simple film, with an easy to follow and understand plot, with characters who speak little. The dialogues are to the point and do not bother with frills. The character of Lieutenant Bullitt is also clear is a policeman with integrity, honest, direct, seductive, romantic, ironic and without illusion.

We would soon have fallen into the caricature but Steve McQueen brings a humanity and vulnerability rarely present for this kind of character. In this sense, the character of Bullitt could very well be played by Boggart. While the film focuses on the character of Bullitt, Steve McQueen being almost all plans. He composed a stoic Bullitt, stony-faced, self-confident and yet very vulnerable to evidence, the very last scene of the film when he looks in the mirror.
The

scene

that

made

the

movie

famous

Bullitt

lasts

about

10 minutes.

It

is

small

in

comparison

to

the

114 minutes

that

the

film

lasts

.

However

,

these

are

only

10 minutes a pure

delight

for

any

car

enthusiast

.
The

shooting

took

place in

the

beautiful

San

Francisco

Bay

Area

, a

scenic

spot.

Also

,

because

the

cars are

filmed

while

traveling

at

speeds

exceeding

160

kmh

an

hour

,

which

is

not

without

impress

.
It has the qualities of stunt pilot who do an outstanding job. Driving the Dodge Charger, we find Bill Hickman, a renowned stuntman who also plays the role of one of the killers in the movie. Bill Hickman has also played an important role in achieving the waterfalls of the film The French Connection. Cult film Bullitt has redefined the way the car chase scenes would be filmed in the future.

As for the Mustang, it is often driven by Steve McQueen who was adamant to be seen as often as possible at the wheel of the car. When not flying, it is Bud Ekins, another renowned stuntman who knows the Mustang. In scenes filmed inside the car, the face of Steve McQueen sometimes sees in the mirror.

When you do not see is that this is Bud Ekin is behind the wheel. Incidentally, this Bud Ekin has not been idle during the filming of the famous sequence. Seen as losing control of a motorcycle while the Dodge Charger and Ford Mustang head to him on a side street.

While the Ford Mustang did not need the free publicity to become a classic, it is probably one of the best investments of the Ford Motor Company during its entire history. A letter from Steve MC Queen wishing to retrieve the Mustang Film "BULLITT"

Denis Eveillard
---