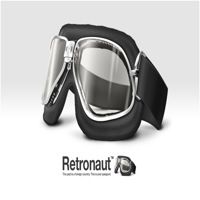 Retronaut, The Photographic Time Machine ...
Published on 10.15.2014

Voir cet article en français
The basic premise, is to present photographic images transcending their own time and space thus achieving a cultural relevance no matter who is looking at them or when they are looked at. A photograph of Albert Einstein as a young boy, Adolf Hitler feeding a tiny fawn, the first human ever photographed, a medieval snowball fight, the "Jaws" shark in all its pneumatic glory, and on and on.

Hundreds of pages of gloriously odd images which will startle and delight you. Wait until you see the "mugshots" of wannabe San Francisco broadcast weather reporters. Real life rocks and it can be fascinating!

The book is a slightly oversize hardcover with very little text. Each of the 350 pages is dominated by a single image with a brief description and the date taken. This presentation is perfectly subtle because the images always speak for themselves. You will be fascinated and challenged by this remarkable photographic collection.
Retronaut, The Photographic Time Machine Copyright @ 2014 Chris Wild.

Buy the book : Retronaut, The Photographic Time Machine.

Website : www.retronaut.com
Denis Eveillard
---