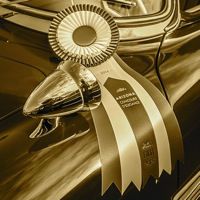 The Arizona's First Concours d'élégance ...
Published on 02.05.2014

Voir cet article en français
When all the gleaming cars had been judged, a 1925 Hispano-Suiza H6B Cabriolet de Ville won the best in show at the 2014 Arizona Concours d'élégance.

Donald Nichols of Lompoc, Calif., the car's owner, said it was bought new by Andrew Mellon, the Pittsburgh banker, industrialist ands secretary of the Treasury. The H6B was eventually left to deteriorate in an alley in Sarasota, Fla., he said. The car had been given to Mr. Mellon's chauffeur as a retirement present, and when not being driven, was kept in a garage. But when the chauffeur died, the car was left in the alley.

Mr. Nichols said he saw the car there in 1970 and bought it, but was so daunted by the prospect of restoring it that he kept it in his garage for 40 years. Finally, he decided to go ahead with the restoration, a project he finished two years ago after nine years of work.
The car was judged the best in its class - Full Classic European - at the concours and was then selected as the best among all 14 class winners, which included such gems as a 1907 Panhard et Lavassor T-3 owned by John Konwiser of Scottsdale, Ariz., a 1934 Packard 1104 2/4 coupe owned by Sharon Briskman of Scottsdale, Ariz., and a 1952 Hudson Hornet owned by Jon Andersen of Murray, Utah.
1925 Hispano-Suiza H6B Cabriolet de Ville
Article : By Larry Edsall published in The New York Times.
Credit Photos : Copyright @ 2014 Royce Rumsey, Ed Bannister.
Alan Baire Eveillard
---