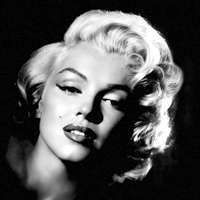 Marilyn Monroe, the 7th Art Myth ...
Published on 07.10.2012

Voir cet article en français
Norma Jeanne, aka Marilyn Monroe inexplicably disappeared fifty years ago, on 5 August 1962. In thirty-six years, this native of Los Angeles, California, who lived a difficult childhood began as a model, it will turn into a thirty films, videos return eight works that have marked the career of an international legend. From his debut with a small role in The Extravagant Miss Pilgrim 1947 in Something's Got to Give, which will remain unfinished after his death ...

The Asphalt Jungle, Quand la ville dort, 1950.
All About Eve, 1950.
Monkey Business, Chérie, je me sens rajeunir, 1952.
Clash by Night, Le démon s'éveille la nuit, 1952.
Niagara, 1953.
Gentlemen Prefer Blondes,Les hommes préfèrent les blondes, 1953.
How To Marry A Millionaire, Comment épouser un millionnaire, 1953.
River Of No Return, Riviére sans retour, 1954.
Credit Photos : LIFE Magazine & Archives.

Denis Eveillard
---