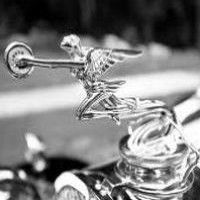 Miss Margaret Dunning, 104 - year-old Packard owner, dies ...
Published on 06.05.2015

Voir cet article en français
Margaret was in California to participate in the ELK Charity Challenge, and earlier in the day she had visited Jay Leno's extensive collection in Burbank. Leno changed his plans so he could be at the garage, waiting for Margaret with a nice bouquet of flowers. Margaret and two close friends had flown to California from her home in Michigan, but she probably would have preferred to have driven. Yes, at age 104, she was still driving.

Sunday afternoon, while leaving a lunch stop on the challenge route, Margaret Dunning fell on stairs and died not long afterward at a hospital in Santa Barbara.
Born June 26, 1910, her history with cars traces to the days when Margaret, an only child, served as "gopher" for her father, Charles Dunning, as he sent her to fetch tools as he worked on cars and farm equipment. Even as a centenarian, she did her own oil changes and helped with the mechanical work needed to maintain her cars. Margaret began driving at age 8. Her father died when she was 12. Because of severe arthritis, Margaret's mother couldn't drive so Margaret inherited all family driving duties.

Margaret Isabel Dunning June 26, 1910 - May 17, 2015 : In Loving Memory
God bless Miss Margaret Dunning, this wonderful ambassador of our hobby, may her gas tank always be full and the sun always shine as she cruises the other side.

Four years ago, The New York Times published a feature story about Miss Margaret Dunning, noting that she was 20 years older than her prized 1930 Packard 740 roadster. - See more at : Packard, 81, Is a Youngster to Its Driver ...

Here is, another article on the Historical Museum of the City of Plymouth, a monument particularly favored by Margaret Dunning :

A trip back in time with a visit to the Historical Museum of Plymouth ...

Credit Vidéo In Loving Memory : Copyright @ 2015 Schrader-Howell Funeral

Credit Vidéo Packard, 81, Is a Youngster to Its Driver : Copyright @ 2011 par Fabrizio Costantini for The New York Times.

Denis Eveillard
---