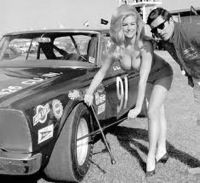 Linda Vaughn, Miss Hurst Golden Shifter ...
Published on 12.10.2011

Voir cet article en français
Linda Vaughn, the legendary Miss Hurst Golden Shifter.

With his new title of Miss Atlanta Raceway in his pocket, his career was launched. Linda's work was to go on the various race tracks in the south as Charlotte, Darlington and Daytona.

Linda Vaughn, the beautiful long-legged, her voluptuous charm, legend of the automotive scene 60 years in the early '80s, best known under the name of Miss Hurst Golden Shifter.

For many Linda was the free woman with her slender appearance, a busty pinup who stole the show pilots during racing. She attended the SCCA racing, Nascar, Indy & Formula One, among others. She had a huge impact not only in promoting the sponsors, but also in promoting women's races.

Linda Vaughn earned her SCCA competition license at the Bob Bondurant School of High Performance Driving. Then she took the wheel and ran. She had a great passion for motorsport.
Credits

photos :

Legends

of

Nascar

.
Denis

Eveillard
---