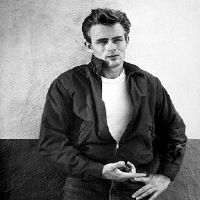 James Dean, New York to Hollywood ...
Published on 06.10.2012

Voir cet article en français
His drama teacher in college was James Whitmore and the latter told him that if he wanted a career, he should go to New York and playing in the theater. Also, in September 1951, James Dean decides to play his fledgling career on a trip to New York. He is willing to risk everything to see his name at the top of the poster.

In the early '50s, America's middle class enjoys economic prosperity and offers furnished kitchens and Chevrolet. But when James Dean arrived in New York without a dollar in my pocket, it's a whole underground culture-cons available to him. For this boy eager campaign sophistication, Manhattan is the place

in the early 50s, television is booming. A new type of character appeared: the juvenile offender and with his youthful appearance, Jimmy is assigned roles rebellious teenagers by the producers of the television. He has the opportunity to interpret a young thug who dreams of a better life in Something for an empty briefcase 1953 Campbell Soundstage Television series.

Jimmy wanders the streets of New York until dawn, wandering jazz clubs in cafes. The charm of a incorrigible boy made ​​a lot of impact on women. One night he meets Liz Sheridan dancer in a club. Jimmy and Liz quickly become inseparable and decided to move together despite their limited resources.

Jimmy's charisma attracted both men and women and learn to use this power. When he discovers that Rogers Brackett is in town, he separated from Liz and returns to the director of CBS. Jimmy refused to give someone just to become an actor, but he is bisexual, beginning a relationship with Brackett.

Through Brackett, Jimmy gets small roles in television dramas. In an episode of Studio One entitled Abraham Lincoln, he plays a soldier in the Civil War pardoned by Abraham Lincoln. But it is not satisfied because he wants more substantial roles.
Autumn is coming and Jimmy knows what he needs to be done because it is almost time for the annual auditions Actor's Studio. Y was an honor to be accepted and meant we were an artist, which was part of the elite. In November 1952, at age 21, James Dean wins against 150 other candidates and became the youngest player to integrate this prestigious school. But before rejoicing, he was offered a role that seems tailor-made for him.

A friend of Brackett, a Broadway producer, is seduced by his physical and offered him the role of size in a new play, See the Jaguar. In See the Jaguar, Jimmy plays a mentally retarded mother holds her away from the world. It is like an animal. Dean feels particularly close to this young prisoner in a cage. See the first of the jaguar on December 3, 1952 Court Theatre. Critics are not enthusiastic but it is a turning point in the young career of Jimmy. Because of criticism, the room stops after five days but Jimmy was noticed.

Full insurance and hope he leaves the Actor's Studio. He learned what he wanted: the total immersion technique in his characters. Now, he must find his own style. The fledgling television industry seems the best place to start. He plays including The Harvest of the series Robert Montgomery presents and cockaigne The bells of the series Armstrong's circle theater. On television, his characters rebel against the system. They are fighting to change things and Jimmy embodies the revolt.

But if offers tributary Jimmy forges a disastrous reputation. He has a habit of muttering during rehearsals in order to save his energy and spontaneity for the shoot. This original approach infuriates confirmed stars and directors. When live, it irritates the team by doing things that were not in the script but nevertheless contends that to the public. Dean now earns between 200 and 300 dollars a TV movie but it throws money down the drain. He changes his apartment very often, taking only his most valuable possessions: his jazz records, his percussion and an old cape bullfighter. It is reckless to know as it's going to be out there was no money and spends his time borrowing money right and left.

In December 1953, Dean was selected to play in a provocative piece of André Gide, who tells the story of a broken by a lesbian affair The Immoralist (The immoralist) marriage. Once again, Jimmy conflict with its director and its partners. He arrives late to rehearsals, changes his game to every scene and loves to mock the star of the piece, Louis Jourdan. He does not appreciate at all. The Immoralist out to Broadway in February 1954. Critics noticed James Dean and he was awarded the prize of the young theater actor most promising of the year. But he will soon receive a much greater reward.

Director Elia Kazan saw the play and loved the performance of Jimmy. It has exactly the attitude and personality he is looking for his next film. In March 1954, James Dean, plagued by stage fright, embarks on a plane with two paper bags containing everything he possesses: he went to Hollywood.

In April 1954, James Dean signs a contract for 10,000 dollars with Warner Bros. to play the lead role in the new film by Elia Kazan: East of Eden (East of Eden). It must play a teenager Cal Trask, but Kazan looking actor who will play his brother Aron. Paul Newman turned a screen test with Jimmy and current flows between the two young actors. But this is not the type of relationship that the research director for the two characters. The casting continues and Jimmy begins to make 400 shots in town. With his first seal, he bought a motorcycle but when it tumbles into the studios of Warner with his machine, Kazan involved. He forbade her to make the motorcycle he was driving very fast and taking risks, as always.

Jimmy defies the pundits studio by buying a sports car and driving at breakneck speed in the turns of Mulholland Drive in Hollywood. Unable to sleep at the approach of filming, he often runs all night in the streets of Los Angeles until sunrise. In May 1954, Richard Davalos Kazan chose to play Aron and filming East of Eden begins. Jimmy plunged completely into the role of the son constantly trying to win the love of his father, played by Raymond Massey. Jimmy is very close to his character Cal, having had many problems with his own father. Kazan imagined the film as a sort of documentary about his psychological state.

In one of the most striking scenes, Cal gives the money he earned to his father and he refused the gift. Cal was just starting but Dean brings a touch and starts to cry and shake Raymond Massey before leaving, this shows how creativity Dean has just begun. During filming, Jimmy met the actress Pier Angeli. The young man of 24 years is immediately seduced by the sophistication and elegance of the Italian star. Mother Pier hate Jimmy. Then it is a forbidden love that creates and Jimmy find it irresistible.

Deeply in love, Jimmy finally found a soul mate. Within weeks, the newspapers Hollywood echo this link. In September, he begs the girl to marry in secret but she refuses, fearing the reaction of his mother. Jimmy collapsed when Pier announces that she may never see him again. His family prefers her to marry a Catholic, singer Vic Damone.

Three months later, Jimmy sneaks incognito at the forefront during the first East of Eden. In the room, the critics are packed in the film, but it is mainly the hundreds of teenagers who respond, the great being. East of Eden was released in theaters in April 1955. In a few days, it is first powered up the box office. Suddenly, the press pounces on the new idol of American adolescents and women photographers are on the heels of Jimmy, he can not escape. In other words, the life of the actor tipped and contrary to what he says, he likes it a lot.

Jimmy is finally where he dreamed of being at the top. But fame is probably not what might happen to her best ... He behaves badly, drinks, makes regular scandals. It has a self-destructive behavior: a kind of despair drives him to fight with people, to drive fast, to crumple sheet ... It is nicknamed "Little Bastard" and once again, Jimmy alienates his closest friends, while pushing desperately need them.

While Jimmy is the wrath of Hollywood, all the youth falls under her spell. Warner Bros. is flooded with tens of thousands of fan letters, all addressed to James Dean. Millions of teenagers identify with the anxieties expressed by this new screen star. Suddenly manly heroes of yesteryear are outdated, they are replaced by young anti-hero. James Dean gave misunderstood teenagers of America the right to revolt.

In the spring of 1955, thousands of admirers screaming as soon as Elvis Presley enters the scene. The country is made ​​by the fever of adolescence. A young director Nicholas Ray wants to ride this wave with his new film Rebel Without a Cause (Rebel Without a Cause). James Dean are starred alongside Natalie Wood, Sal Mineo and Carey Allen. This is the story of a lonely young boy who had difficulty integrating into their new school. Rebel Without a Cause is a film about young people, made by young people, including Nicholas Ray, and for young people. American teenagers see themselves as a group in rebellion against bourgeois society of adults.

The director Nicholas Ray leaves rein Jimmy who can improvise freely under the watchful eye of the camera. Rebel Without a Cause is a kind of manifesto launched in the face of major studios and their aging stars who would be better to leave them up to the revolution of angry youth.

Credit Photos : LIFE Magazine & Archives.

Denis Eveillard
---