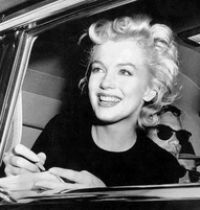 Happy birthday to you, Miss Monroe ...
Published on 05.10.2012

Voir cet article en français
Before being Marilyn Monroe, Norma Jeane Baker is a young 16 year old girl, married to his neighbor Jim Dougherty and Auditor military parachutes profession.

Luckily, photographer David Conover, responsible for promoting the U.S. Army crosses Norma on the tarmac. In 1944, she has her first photo in Yank

Magazine.Within a few months, she became the pin-up of one of the most wanted men in magazines and calls himself "Mmmmm girl" by boys slicked.

At age 20, she said goodbye to Jim and hello to Hollywood. It appears in Brawl for a blonde, F. Hugh Herbert 1948 The Asphalt Jungle by John Huston in 1949.

On the shooting of Honey I feel rejuvenated, Howard Hawks, the first film in platinum blonde, in 1951. Darryl F. Zanuck caste for Niagara, Henry Hathaway in 1952 and critics laud his performance "overtly sexual."

Of course, the women of the time find it rude.
| | |
| --- | --- |
| | |
The same year, he discovers that she has posed nude in the Golden Dreams calendar in 1948 under the name Mona Monroe. It becomes "the blonde heatwave."

There followed a series of successful films. How to Marry a Millionaire, Jean Negulesco, 1953 The Seven Year Itch, Billy Wilder, 1955.

In 1953 a new marriage with a living legend of baseball, the lucky guy named Joe DiMaggio. On the day of their marriage, January 14, 1954, Marilyn said: "My main ambition is now to focus on my marriage."

A month later, she went to sing for U.S. troops in Korea. Seven months later, she filed for divorce. The day of the funeral of Marilyn, Joe DiMaggio will focus on his coffin three times and whisper "I love you."

Back in Hollywood, she wants dramatic roles and a film with Hitchcock.

When it responds not like women who have "sex displayed on the figure", she decided to take acting lessons with Lee Strasberg, head of the Actors Studio. On the shooting of The Seven Year Itch in 1955.

His teacher later admitted: "I've worked with hundreds of actors and actresses, and there are only two that are better than others: Marlon Brando and Marilyn Monroe."

| | |
| --- | --- |
| | |

It is the fantasy of every man who meets the enemy of every woman worthy of the name, the prey of any paparazzi with a minimum of ambition. In the spring of 1955, she is 29 years old and started dating playwright Arthur Miller. They married a year later and remain "the egghead and the hourglass" (in French, the nerd and the wasp waist) until 1961, when Marilyn already dark in alcohol and other drugs.

In the early '60s, its popularity is on top, but she consults daily Ralph Greenson, the psychiatrist All-Hollywood. Abusing tranquilizers, demoralized by several miscarriages, Marilyn becomes addicted to jitters and impossible to channel on a film set. His incessant delays due to his strong friendship with Tony Curtis, who later reported that the kiss was "like kissing Hitler." On the shooting of Some Like It Hot, Billy Wilder in 1959.

At age 33, she was the slope with The Billionaire, George Cukor, and falls in love with his partner Yves Montand. A romance that the French actor quickly puts end to Simone Signoret, leaving Marilyn console time in the arms of Marlon Brando.

If a meeting with Queen Elizabeth II in 1956, remained very cordial relations with John Fitzgerald Kennedy visibly slipped. Jackie Kennedy beautiful strongly oppose the coming of Marilyn in her husband's birthday gala in 1962, the star is still singing his legendary Happy birthday to you, Mr. President.1962 tragic year. Arthur Miller remarries, Fox the ledge, and the Dom Perignon 1953 with his favorite drink to swallow his pills Nembutal.
On March 5, 1962, she won for the second time the Golden Globe of the World movie star. Drunk and staggering, she received her award from Rock Hudson babbling some thanks to a stunned room. The ceremony will never be published.

August 5, 1962, Marilyn was found dead in his house in Brentwood, Los Angeles. The medical examiner mentions a "probable suicide" due to an overdose of barbiturates. The rumored assassination organized by the Mafia and murder sponsored by the Kennedy brothers. The sex symbol reaches the level of myth.

Credit Photos : LIFE Magazine & Archives.


Denis Eveillard
---