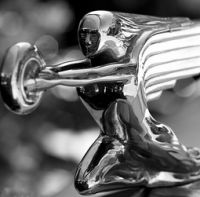 Glenmoor Gathering Week-End 2012 ...
Published on 11.15.2012

Voir cet article en français
After a record year in 2011 with some five thousand visitors, and for this 18th edition of the rally Glenmoor, he offered to the public different class, car and motorcycle.

The first supercharged cars with the legendary "Mormon Meteor'' a race car built on the basis of a 1935 Duesenberg, automotive engines, the Allard sports car designed by Zagato and many other gems that can not not cross the roads. motorcycle class will feature classic American from 1928 to 1948.
Note the presence of a very rare Packard, a unique model that was built in 1952 for Ed Macauley, director of the firm style of Packard. Designed as a concept car, she was known by many names, Packard Panther Macauley Phantom II Special Speedster.
The first prize was awarded to Mr Charles Letts Jr. From Bloomfield Hills, Michigan for this car, Phaeton 1929 Duesenberg J Murphy bodied. Two other cars and their owner are then distinguished. Firstly, the Packard 740 Custom Eight Roadster 1930, belonging to Miss Margaret Dunning Plymouth Michigan came second car to get a perfect score of 100 points awarded by the Classic Cars Club of America.

Then the crowd favorite one Tucker 1008 * 1948 part of the collection of Richard H. Driehaus Chicago and its particular history. For the second time Stephen Murphy, curator of the Collection to kindly bring the Tucker with her first owner, Rudy Schroeder Perryville Missouri.

The story of Rudy Schröder : Winner of a lottery Tucker he finds his car after 63 years ...
The story of Margaret Dunning : A Packard and his young pilot born in 1910 ...
On the central lawn of the entrance was exposed a spectacular collection of Super Cars. The Lamborghini was largely represented by forty cars including a four Aventador LP 700-4. Andrew Romanowski, President of the Lamborghini Club of America, was also present. The panel consisted of more than 20 Lamborghini Murcielago, including the Gallardo, Countach, Diablo, Jarama, Jalpa and 400GT. Other brands on display include: Aston Martin, Spyker, Maserati, Ferrari, Ford GT40, DeTomaso Pantera and the Dodge Viper.

Credit Vidéo : Copyright @ 2012 Glenmoor Gathering.
Credit Photos : Copyright @ 2012 Glenmoor Gathering.
Denis Eveillard
---