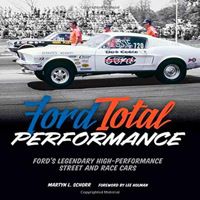 Ford total performance the book ...
Published on 11.05.2015

Voir cet article en français

In the early 1960s, Ford Motor Company underwent a dramatic change in corporate philosophy. Previously, under Ford's young chairman, Henry Ford II ("the Deuce") safety, not performance, was the goal.

But by 1962, even the chairman realized his philosophy needed to change. Ford was nearly invisible to car-crazy baby boomers. Lee Iacocca convinced Ford that he needed to act decisively or risk losing the emerging youth market to the competition.

Thus began Ford's "Total Performance" program. Ford Total Performance is all about Ford's prime racing era from 1961 through 1971. In addition to purpose-built race cars, it also covers production performance cars, specialty models, and unique concepts such as lightweight drag race cars.

The book explores the 427 Fairlane Thunderbolt; Mercury Comet; unique V-8 Falcons that competed in the 1963 and 1964 Monte Carlo Rallies; Dick Brannan's 427 A/FX drag car; Ford Indy 500 winning race cars; 427 Overhead Cam SOHC 427 engines as used in A/FX and fuel race cars; Boss 302 and 429 Mustangs for street, drag racing, and Trans-Am; and many more.

The Ford-Ferrari war that led to the creation of the legendary GT40 Le Mans race cars isn't forgotten. Featuring unpublished period photographs, plus photos and artwork from Ford designers, Ford Total Performance covers all of Ford's classic race and street cars, including Cobras and Shelby Mustangs. It's a must-have book for any fan of classic American performance cars!
About the Author,
Martyn L. Schorr has a history with high-performance cars that dates back to the beginning of Ford's Total Performance era over fifty years ago. He rode with Carroll Shelby and was at the press conference in New York for the debut of the Lola-built Ford GT that became the GT40. Schorr drove the GT40 on streets of New York City and went with Mickey Thompson in 1969 to Bonneville to set a book full of records. He personally knew all the key players from Ford's racing program from his years as a magazine editor. Schorr is the author of Motion Performance (Motorbooks, 2009).
Lee Holman is the son of John Holman and currently president of the legendary Holman & Moody. John Holman's involvement in Ford performance and racing dated back to the 1950s when he worked for Bill Stroppe and continued until Ford's retirement from racing in 1971.
Ford total performance, Copyright @ 2015 Martyn L. Schorr.
Ford total performance the book, Buy from Amazon.com
Alan Baire Eveillard
---