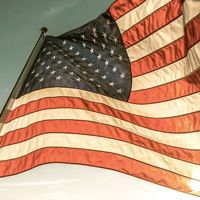 Birthday party rings in Plymouth Museum exhibit ...
Published on 07.05.2014

Voir cet article en français

Plymouth's Margaret Dunning is the Plymouth Historical Museum's biggest benefactor, so it seemed appropriate that, to kick off a new year in her 104-year-old life, museum officials would use a birthday party to kick off its newest exhibit.

The exhibit, "Wheels of Summer," promises to be a fun one for visitors to the museum Dunning loves so much.

"(The museum) means so much to me, because I love the past," Dunning said Tuesday, two days before her 104th birthday. "I love how brilliant our ancestors were. If we don't keep remembering (the past), it's going to be a sad day, I fear."

The exhibit, which runs through Nov. 2, features a variety of bicycles, cars, trucks and other wheeled toys, "the kinds of toys kids have played with over the years," said Liz Kerstens, the museum's executive director.
Margaret Dunning speaks with Bee Friedlander and Donald Garlit at the preview for the Plymouth Historical Museum's new 'Wheels of Summer' exhibit.
There are bicycles, roller skates, Tonka trucks and metal pedal cars, including a collection donated by Greg Gladki of Westland. Much of the exhibit is made up of items already part of the museum's collection, including bikes made by Evans Products, which used to be located on Eckles. "It's a summertime exhibit," Kerstens said. "I think the kids will like it."

The exhibit features bikes and toys from a variety of eras, dating all the way back to the Civil War. It has the kinds of bikes the old Plymouth bike club used to ride. One of the key pieces is a large bike called the "Boneshaker," which features a very small back wheel and a very large front wheel. Kerstens saw one like it at another exhibit and decided the Plymouth museum needed one.

It's and interactive natural, the kind of bike folks can climb on and have a photo taken. "One of my goals was to get it permanently mounted so people can walk up, sit and get their picture taken," Kerstens said. "People like to have things they can engage with in a museum."
Eli Nichols and his father built this soapbox derby car back in the early 1950s. He last raced it in 1953. Nichols stands with grandsons Henry, William and Owen Telesco.
The preview of the exhibit coincided with a birthday party Kerstens and museum volunteers threw for Dunning, who said she's humbled by the kind of love and support the community continues to show for her.

"What this community has done for me in furnishing this museum has been fantastic," Dunning said. "I've enjoyed building it. I've been most privileged to live this long. A lot of people don't have this privilege."
Below is a short promotional video for the Wheels of Summer exhibit.
Credit Photos : Copyright @ 2014 Bill Bresler.

Article : By Brad Kadrich published in Home Town Life.

Credit Vidéo : Copyright @ 2014 Plymouth Historical Museum.

Plymouth Historical Museum : www.plymouthhistory.org

Alan Baire Eveillard
---