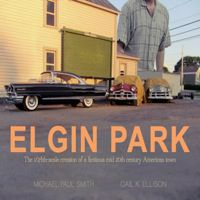 Elgin Park Michael Paul Smith's second book ...
Published on 07.15.2015

Voir cet article en français
Michael Paul Smith's Elgin Park is a lot of things: a mid-century utopia, a fantastical world, and an optical illusion. The imaginative town – composed entirely of miniatures – delights audiences worldwide, attracting to date more than 76 million views on Flickr.

At first glance, Michael's work appears to be wonderful photographs from a bygone era. The awe slips in as it becomes clear that he not only created the photographs – without using Photoshop – but also built everything in each scene except the cars, which are 1/24th-scale diecast models from his extensive collection.

Michael constructs much of what is barely visible in the photos: shoeboxes, furniture, stage lights, a lawnmower, and machines in the laundromat. A close inspection of each photograph takes your breath away: even the gravel, snow, and tire tracks are to scale.

Many of the photographs were taken outdoors against natural backgrounds in the artist's neighborhood – but the models, scenarios, stories, and humor are pure talent and imagination.

Elgin Park, par Michael Paul Smith et Gail K. Ellison Credit : Photos Copyright @ Michael Paul Smith's

Site Elgin Park : www.visitelginpark.com

Denis Eveillard
---