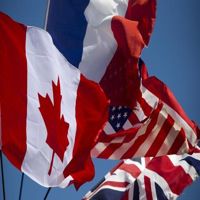 D-DAY Normandy 2014 ...
Published on 06.05.2014

Voir cet article en français

To commemorate the 70th anniversary of the landing, France has decided to pay tribute to those who gave their lives for the success of the operation. To those who thought the largest amphibious operation ever known in the world. To those who, seventy years later, still testify to their actions that day. Soldiers, veterans, but also resistant which played an important role in the success of the project.

The landing is one thing, but before you set foot on the beaches of Normandy, all worked day and night for months. A little over a year to think, organize, initiate this gigantic appointment with history. It took engineers to invent everything, or almost, special boats, pontoons, floating bridges etc ...

This year 2014 will be an outstanding evocation of D-DAY, because most soldiers are older than 90 years, with their disappearance, the next major celebrations of D-Day will switch from memory to memory.

Most of the men who landed on the beaches were from the UK, the US and Canada, but troops from across the world took part in the Battle of Normandy : from Australia, Belgium, Russia, Czechoslovakia, Greece, the Netherlands, New Zealand, Norway and Poland.

We thank them enough for having prevented the U.S. for the first time in 1917 and for the second time in 1941 the construction of a united Europe under German hegemony ...

D-Day nine highlights
D-DAY Combat Vehicles
Credit Photos : Copyright @ 2014 Le Monde.
Credit Photos : Copyright @ 2014 The New York Times.
Alan Baire Eveillard
---