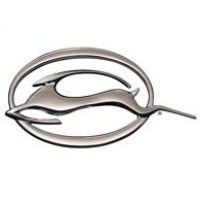 Concept Car Chevrolet Impala SS General Motors ...
Published on 12.05.2010

Voir cet article en français
This

is

the

only

Impala

SS

factory

ever

built

with

a

6-speed

manual

transmission. A

single

copy

of

a

marvel

of

history

Chevrolet

Cars Concepts

of

time

is

not

over

.
It has, in addition to the six-speed transmission, was substantially changed. Engine whose piston heads were polite, was balanced and has a capacity of 308 CI according to the manufacturer for a couple of 453 Nm. This is nearly 50 more horsepower than stock and Impala available to more than 94 stock Corvette.

The suspension has Bilstein adjustable guide arm of the bridge and also reinforced adjustable. Add to this a double line filled exhaust muffler Flowmaster original, ( When was the last time you saw Flowmaster factory fitted ! ? )

These Impala 94-96 have very many fans despite the lack of a manual transmission that has been often alleged - In addition several people have modified their homes, in their garage, replacing the automatic transmission with a manual, but it is original factory !!!

In addition to the 6-speed transmission, it has other unique features, sport chassis is reinforced, it also has a tachometer (account - rounds) molded into a chamfer around the dashboard which gives it a distinctive look while as the shift lever knob surmounted by a bakelite coated leather.
Chevrolet Impala SS cars are fun to drive, but the 6-speed gearbox radically changes the character of the vehicle and it then passes control to conduct, with the impression of being in a 4 door Corvette.

If all production models came out of factory and we would have a beautiful collector, but we can still dream of watching this unique copy !

This car was inspected by the Department of Transportation Arizona has validated its approval, so she now official registration in Arizona.

Credit Photos : General Motors History & Heritage.
Edouard Feuvrier
---