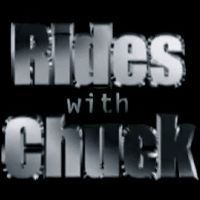 My Time With Voodoo Larry by Chuck Derer ...
Published on 06.15.2013

Voir cet article en français
This story starts way back in the early 1990's. This was during the start of the regular Friday Night Downers Grove Car Show.

I was standing around watching the passing cars when a very lime green early 50's convertible drove by the guy behind the wheel wore a very high pompadour. I had seen hair like this in the movies but I didn't realize that people actually wore their hair that way.

At the time I didn't know who that was driving by and it would be many years later that I found out it was Larry.
In 1996 my cameraman, Roy Goodpasture and I were videotaping cars at the Friday night car show. I had the chance to meet Larry Grobe AKA Voodoo Larry. At the time he was going by the name Hep Cat. He was demonstrating the flame throwing exhausts of his Mercury lead sled. I interviewed him and then I had a bright idea ! The road in front of my house is private. I asked Larry if he would drive out to my house for a short video project. I wear a straw fedora. Larry would use his flaming exhausts to set it on fire !

We were discreet ; I didn't want to attract a mob to my house. It was dark. I really didn't know what I was doing as a director and producer. My cameraman, a retired US Postal architect wasn't sure how to video tape this event. But we tried. The fire coming out of the car caught the attention of my neighbor. She screamed to her husband, a deputy chief of police in Downers Grove, "There's a car on fire in the street !" He ran out to find me and a bunch of hot rodders hanging out in the darkness. This first attempt at Burning Hat was a failure …but the concept was good.

I spoke with a friend of mine, Kevin Otterness, about my nighttime video project. He offered to help or should I say, do it for me. He brought a generator, lights a really good camera and the expertise that I didn't have. After a couple hours of work my Burning Hat Project was in the can. We had pizza a beer for everyone. Larry and his hot rod pals ate pizza but chose the soft drinks. Over the years I've used that hat footage more than once.
1996 Rockabilly Monster ! Psychobilly ! Voodoo Larry
Larry Grobe and me (Chuck Derer) and the team during the filming of the video in 1996
After this I started noticing Larry at many other car events. He became Voodoo Larry and he just seems to get better and better at what he does. As he states, "Hot rodders show off their engines, Lead sledders show off their body work". In the true form of an artist he has a personal style. It isn't far removed from traditional lead sleds, but I can usually say which car in a line up has been built by Larry. There will always be subtle details that you might not notice at first. The more you look, the more you notice.

"Some might think Voodoo Larry look a little scary" with those tattoos and personal body modifications. He is a little intimidating if you've never met him before but he is a true gentleman and I am very proud to know him.

Credit Vidéo : Copyright @ 2013 Chuck Derer.
Credit Photos :

Copyright @ 2013 Chuck Derer.
Chuck Derer
---