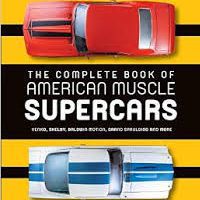 American Muscle Supercars by Tom Glatch ...
Published on 02.05.2017

Voir cet article en français

Uncover the captivating history of the highest-performace cars in America, illustrated with beautiful photography.
The American muscle car began not in the factories of the big three automakers, but in the garages and dealerships of a hot-rod subculture bent on making the hottest, highest-performance cars on the street.
The Complete Book of American Muscle Supercars catalogs these amazing cars, along with the builders who unleashed them on the American scene. From Michigan's Royal Pontiac dealership and the souped-up Royal Pontiac Bobcats they built and sold, to the new cars from such fabled names as Carroll Shelby, Mr. Norm's Grand Spaulding Dodge, Nickey Chevrolet, Don Yenko, George Hurst, Baldwin-Motion, Calloway, SLP, and Steve Saleen.

This gorgeously illustrated book chronicles the outstanding contribution of the tuner/builder to American automotive history through the amazing machines they created.

From the oldest of these muscle tuners commanding top dollar at today's classic-car auctions, to the latest vehicles by Ford and Chrysler, with their SVT and SRT divisions, this book gives readers a full and fascinating look at American high-performance in its purest form.
About the Author,
Since 1983, Tom Glatch has contributed hundreds of stories and photographs to major collector, Corvette, Mustang, muscle car, and Mopar magazines. Tom grew up during the muscle car era, and his first car was a very quick 1970 Plymouth Duster 340. Tom and his wife Kelly have contributed photographs to books by other Motorbooks authors, as well as Motorbooks' Corvette calendars. When not pursuing old muscle cars.
About the photographer,
David Newhardt is one of the best automobile photographers working today and has provided photography for best-selling Motorbooks titles Muscle: America's Legendary Performance Cars, Corvette: Fifty Years, Mustang: Forty Years, Mopar Muscle: Fifty Years, and Shelby Mustang: Racer for the Street.
American Muscle Supercars, Copyright @ 2016 Tom Glatch.
American Muscle Supercars, Buy from Amazon.com
Alan Baire Eveillard
---