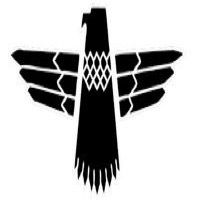 25 years later, woman finally buys Thunderbird of her dreams ...
Published on 06.05.2016

Voir cet article en français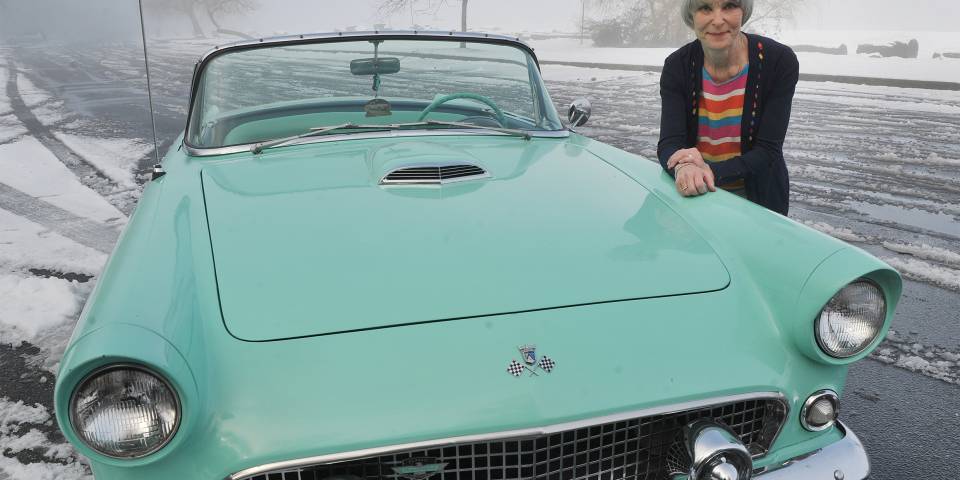 The 1955 Ford Thunderbird was introduced at the Detroit Auto Show 60 years ago on Feb. 20, 1954.

Billed as a "personal car," the two-seater was unique and took North America by storm when it went into production on Sept. 9, 1954 and began showing up at Ford dealerships at the beginning of October.

The defining moment Natalie Speckmaier remembers from her teenage years growing up in Drumheller, Alta., was the day she and her best friend rode their bicycles to the local Ford dealership to see the new Thunderbird. She loved cars and could name the make and model of every one of them with just a glance. She had just heard about Ford's fancy new sporty car and couldn't wait to see it.

The route she and her girlfriend took that fall day in 1954 now leads to dinosaurs displayed at the world famous Tyrrell Museum of Paleontology. The only licenses the two 15-year-olds held were for their bicycles. The chance to see a car like no other coupled with the possibility of free doughnuts, pop and balloons was all too exciting.

Natalie got to sit behind the wheel of the shiny robin's egg blue sports car and tried out the revolutionary adjustable telescopic steering column along with the buttons for the power windows and seat. The car had a removable hardtop and available convertible top. The teenager vowed she would have one just like it someday.
A career, marriage, a son and two daughters detoured away from that dream. But Natalie never forgot about her "Bluebird." Twenty-five years after she saw the newly released 1955 Thunderbird, her husband Norman, a Vancouver mortgage broker, put an advertisement in The Vancouver Sun classified section: "Please help. My wife wants a 1955 or 1956 T-Bird and what my wife wants, she gets …"

There were a number of responses, but those offered were not the car that Natalie really wanted. She held out. Then one day, her daughter Shannon spotted an advertisement in the Auto Trader that described the car of her dreams.

This little bird nested in Powell River. Natalie borrowed some coveralls and, on Valentine's Day 1980, took a flight north. While in flight, two male passengers began talking about a 1955 Thunderbird for sale at their destination. Natalie proudly told them that classic car was what her trip was about.

The car took Natalie's breath away once its "fuzzy overcoat" car cover was lifted. It was Thunderbird Blue in and out with a white removable top. She knew the lovingly and authentically restored "baby bird," originally from Eureka, Calif., was going to be hers. She donned her coveralls and spent two hours going over every inch of the car.

"It was love at second sight and, being much too excited to deal rationally at that time, the final purchase price of $14,000 was agreed on," she recalls.

She and Norman subsequently drove to Powell River to bring her dream car back to Vancouver via two ferries and the Sunshine Coast Highway.

Over the ensuing 35 years, Natalie's Bluebird has given her and Norman miles of pleasurable driving experiences. She has been the only driver with her husband preferring to be a passenger. Natalie originally removed the hardtop manually by herself. She later got a hardtop hoist. She took a "female mechanics" course to learn how to maintain the Thunderbird herself.

Her car has been remarkably reliable although the engine has been rebuilt and there's been other work done to the car. It still has the same robin's egg blue paint that was on the car when she purchased it. It almost stole the show at her younger daughter's wedding in 1985.

"The only tarnish on the jewel was paint damage when Bluebird was having an ornery moment and had to take a reluctant trip in to Vancouver to see her 'doctor,' " Natalie says.

"The subsequent repairs did more damage than the tow truck and the resulting court case was an exercise in futility, expense and injustice with negative results."

She winter stores her beloved Bluebird in the garage at her Kitsilano home where it gleams just as it did when she first set eyes on it in Powell River nearly 35 years ago. Natalie continues to be a very proud owner.

Article : By Alyn Edwards published in Driving Classic Cars,

Credit : Photos : By Wayne Leidenfrost.

Alan Baire Eveillard
---