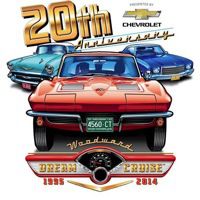 2014 Wooward Dream Cruise ...
Published on 08.15.2014

Voir cet article en français
The Woodward Dream Cruise is a celebration of Detroit's golden age and all things automotive. They came, they saw, they cruised. What began as a fundraiser two decades ago has transformed into the world's largest one-day automotive event as cars owners and enthusiasts continue to descend on nation's first paved road for the annual Woodward Dream Cruise.

Today, the Woodward Dream Cruise is the world's largest one-day automotive event, drawing 1.5 million people and 50,000 classic cars and Mopar muscle cars.

North American cruisers from California, Georgia, Canada and all points in between caravan to Metro Detroit to participate in what has become, for many, an annual rite of summer.
Credit Video : Copyright @ 2014 Shane pickett.
Alan Baire Eveillard
---