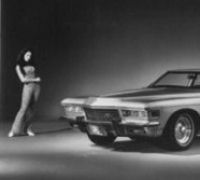 1972 Silver Arrow III Buick Riviera Concept ...
Published on 11.15.2017

Voir cet article en français

This beautiful show car is distinguished from the 1971 series model by a few details, but they are important. The grille of the grille is rectangular patterns; the front bumper carries two bananas, the end of the bonnet is cut to a point and that of the wings houses side lights, a lower roof line, the rear part of the roof has two air outlets above the telescope, the base of the ice follows the line drawn on the side of the body and the rear quarter mirror ends in a point following the profile of the wing.

Other advanced details include side wing lights on the front fenders that also act as secondary turn signals, six halogen square headlights on the front for better visibility at night and anti-lock brakes on all four wheels. To maximize traction, the Silver Arrow III, like all 1971 Riviera, was equipped with the Max Trac, the forerunner of today's traction control systems.

The taillights remain circumscribed by the cutting of the bumper and the trunk lid dug two depressions. This silver arrow had a new interior entirely in silver color. Inside, the Silver Arrow was equipped with a silver leather interior and black piping. Driver comfort has been improved with adjustable brake and accelerator pedals and tilt and telescoping steering wheel. Equipped with these features, no horizontal adjustment was necessary for the driver's seat.
There were actually two other versions of the Silver Arrow III. Silver Arrow I and Silver Arrow II incorporated unspecified but relatively minor changes to the production Riviera. William L. Mitchell was thinking of it when in January 1980 he made the following remark ... fashion, according to the dictionary, is a temporary use that rule, according to the taste of the moment, how to do something. A good design does not age, it lasts forever and becomes a classic. A bad design does not forget and never ceases to continue !
The concept car images, Buick Riviera Silver Arrow III. If you want to see the gallery ... Click Here.

Credit Photos : General Motors History & Heritage.
Denis Eveillard
---