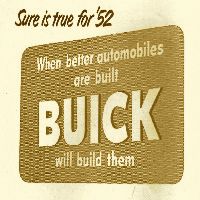 Meeting a 1952 Super four-door, and her feisty 90-year-old owner ...
Published on 06.05.2012

Voir cet article en français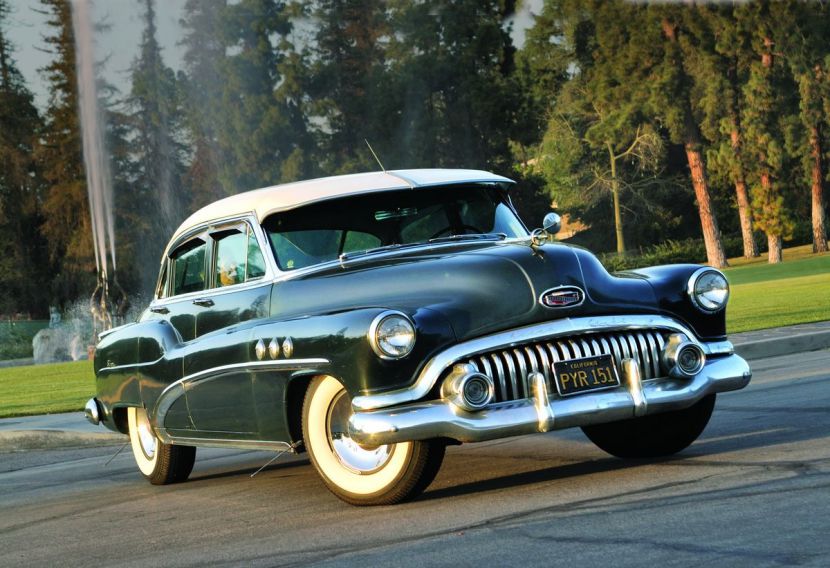 And such is the story with Mary Louise Largey, now 90 and living in Glendale, California--in the house she's lived in since she was 4 years old. "My father was named William--he had no middle name; he was the 13th child, and he was lucky to get even the one name. He was born in 1869, so he was no spring chicken when he had me."
In 1922, on the advice of his brother Huey, who lived in nearby Alhambra, William loaded the family in the 1919 Cadillac Touring car (which they had named Lizzie; the Largey family cars all tend to get names), came to California, and built a home; Mary Louise's sister, Lucy, was born around that time. The Cadillac's removable side windows are still in the garage. "Dad drove that car to the dump during the war," she explains of the Cadillac's fate. "They probably made it into bullets."

A new Packard arrived in the Largey driveway for 1929: a seven-passenger model with jump seats and sidemounts. Mary Louise's older brother, Edward, was of driving age by then. "He was supposed to be taking us down to church, but the gasoline man down the street called my mother and said she'd better watch it, that Edward was sailing around with his friends in the car, that you can't trust him. No more taking us to church after that," she recalls.

Both the Cadillac and the Packard made biennial runs to Texas to visit family (without Edward at the helm).

During the war, Mary Louise worked at Lockheed in Burbank, making bomber doors. "I had a man partner in the shop; we could buck 'em up fast, and we had it down pat. I liked to rivet, and I liked where they give you the blueprints and you go back to the shop and get the materials you need and go off and do it.

I really liked my job." When the war was over, she applied to the City of Glendale, where they wanted our real-live Rosie the Riveter to be a secretary in the typing pool; instead, Mary Louise chose to run errands, the elevator and the telephone switchboard for awhile before transferring to the water and power company and keeping ledgers.

Also after the war, the Largey family turned in the Packard and moved over to Buick--in part because "Lucy worked at Stansbury Buick in Burbank, and became friendly with Wanda, the daughter of the man who owned it. We wanted a new Buick in 1947, but they were just on order--we couldn't buy one from the showroom. So we got one in 1948--a maroon one with standard shift.

Well, Mother didn't like that at all, so in 1949, they traded it in on another Buick, a green one. She was happy because she didn't have to hear the gears shift anymore.

"Then some friends of mine put sugar in the gas tank; I don't know why." Mary Louise pauses, lost in memory. "I guess they weren't friends, really. But because of that, we ended up buying the '52 Buick, in May of that year." The car was put in Mary Louise's name, for reasons that are lost to time.

For 1952, Buick was all about the status quo--they were very similar to the 1951 models, in both content and style. That was fine: Buick had been doing well since the war, placing 4th in overall sales for the year, and machines like this Series 50 were the reason. A total of 71,387 four-door Supers were built for 1952, and ran a 263-cu.in. straight-eight good for 128hp.

The Largeys' model, quickly dubbed Betsy, was Terrace Green with a white top; the paint and chrome you see in these photographs is original.

"It was such a nice car, I loved it right away. It used to get good mileage ... once, my mother and I went to Palm Springs, I stayed under 50 MPH, and it got 16 MPG.

But coming back, I opened it up, and I didn't get close to that.

Of course I get very little now. I used to, if I was coming to a signal, put it into low--in case I had to really move. The Dynaflow is smooth, but if you want to move, you don't really move."

Her father William still drove it plenty, too. "They'd still drive back to Texas twice a year. My mother said that his foot just became glued to the gas pedal ... "

Mary Louise worked at the water and power company for 34 years, retiring in 1980. As the years marched on, some pieces for the Buick became harder to find.

"It had a cracked exhaust manifold. I couldn't get one, so I went out to all the junkyards."

As to getting the work itself done, "I talked to the mechanic, and he recommended a shop in town to work on it. I went there, and I'm sure he rues the day I ever came in. I needed a part, and he said he didn't think he could get it. Not sure if I got it from Hemmings" --yes, Mary Louise has scoured our classifieds for parts on occasion-- "but I got a new one. I came back, and he'd found a used one. I said to him, 'I don't want a used one, I have a new one.

They had already taken my engine out, and it was sitting on the ground. Well, we had a fight, and I didn't back down. I raised my voice--I had had a lot of practice fighting with my sister. Then I banged my cane on his counter; he thought I was going to break it."

The mechanic may have gotten the last laugh though: "When he put it back together, he didn't put the Dynaflow back right. Later, it wouldn't release out of park without three people rocking the car." There's also a replacement Stromberg carburetor sitting atop the intake manifold--"it was $500, which I thought was steep, but I couldn't get one." At least the local seller had the decency to come to Mary Louise's house and install it himself, there on the driveway. "And it still does run quiet; sometimes you don't hear it. People at work, they were always amazed that you could hardly hear it idle.

"I stopped driving in ... let's see, I got my heart done in 2003...what year is it now? 2009? Oh, probably 2005 or so, I stopped driving. I had another Buick, a 1990 model, and my optometrist told me that I was legally blind. He said that if I was hit at a stop sign and they found out I was legally blind, even though I'd been sitting there, they'd just sue me and sue me. I drove that car straight home and sold it within the week."

Yet Betsy remained. How could she not ?

There remains the uncomfortable question of legacy. What does the future hold ? "Well, I never got married ; I'm an old maid. But I'm happy, got to do a lot of stuff.

My nephews have never driven it. Well, one has never driven it; the other one drove it when he was out this way.

I asked if we could take it to get gas, but he's used to driving a little car. My driveway backs out onto a main street, and you do not linger.

He gave it the gas, but it doesn't have power steering or brakes, and so we darn near came up over the curb and into the wall."

She pauses, perhaps for effect. "He's not particularly interested in it either. But the mechanic at Thorsen Buick in Burbank wants it, and of course every Tom, Dick and Harry at a stop sign wants it, too."

Instead, it seems entirely possible that Tim Mings might end up with it. Tim lives next door to Mary Louise, works on cars for a living, and is the guy who clued us in to Mary Louise's existence, and her life-long connection with Betsy. Five years ago, she asked him to take it to the gas station to fill it up. Today, Tim's done some basic repairs, helps out a little around the house, and he's driven Betsy all around Southern California, including on Pacific Coast Highway in Malibu - with Mary Louise riding shotgun, of course--where they stumbled upon the local Lamborghini club parked at a local eatery. "They were little and she was big," Mary Louise recalls, "but she was as classy as the rest of them !"

Mary Louise's funeral will be held Tuesday, May 29, 2012, at Forest Lawn Memorial in Glendale – the very place where we photographed her Buick back in 2009.

Article : By Jeff Koch published in The Hemmings Classic Car,

Credit : Photos : By Jeff Koch.

Denis Eveillard
---